Playstation Vita - Game console first, phone second
Catching up with the gaming industry is like observing the fashion runway; you'll never know what's coming up next and when it is going to end, but one's thing for sure, it's one heck of an exhilarating affair.
Playstation Vita console
The 'Playstation Smartphone' has been causing quite a lively buzz in the gaming and tech gadget scene alike. First, the Xperia Play, a Playstation enabled smartphone and the only one of its kind with a prominent built-in game pad feature was released. Then, around the middle of the year of 2011, Sony announced their latest hand-held gaming console, called the Playstation Vita. A lot of people seem to be comparing these two hand-held devices and since both of them are revealed around the same time, they are going to compete head-to-head in the market. With the line between game console and smartphones being blurred and crossed so frequently in current hand-held device industry, there was a lot of confusions rising up between these two devices. It should be noted that both of them are set to serve different category of the market where the SE Xperia Play is focusing more on the android/smartphone side of the sphere and PS Vita focusing more on the hand-held gaming console side. It makes perfect sense if the gaming features and capabilities of the PS Vita far surpassing the Xperia Play because PS Vita IS a gaming console, design to fulfil your gaming pleasure.
In a way, it is understandable why critics and observers keep on comparing the two because both are able to be used for calls.
There are two versions of PS Vita console that will be launched, which are:
1) 3G and Wi-fi equipped retailing at $299 (3G provided by AT & T)
2) Wi-fi only retailing at $249
There's no questioning how PS Vita is keeping us game enthusiasts on the balls of our feet, 'real playstation phone' or not. With the installations of cool new features for the console, PS Vita is surely a hot commodity. The 3G model will enable chatting, browsing and downloading while on-the-go.
Super Stardust delta
While having outstanding features and software are important for a game console, what really hits the home-run is the kind of games that are available on the console. PS Vita guarantees to bring new sparks to an already established list of games within the Playstation system like Super Stardust delta, modnation racers, and hot shots golf. Some of the most anticipated games in PS Vita are Uncharted: Golden Abyss, Wipeout 2048, and Street Fighter x Tekken.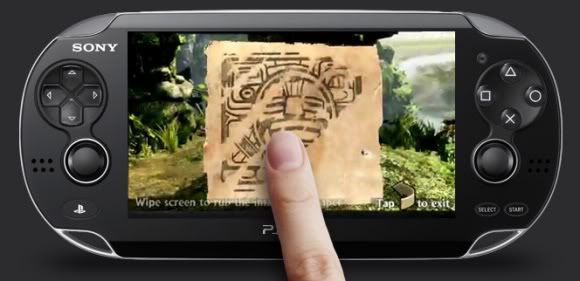 Multitouch OLED screen
Just imagine the new possibilities of playing these games with the 5 inch multi-touch OLED screen, front and panel touch panel, and dual analog joysticks.
I can't say much on the software front since I haven't try them out yet but it looks like there are quite some interesting apps on the Vita like the PS Vita Party mode that allows user to chat with nearby owners, PS store, wi-fi and many others.
Here are the specifications for the device:
- Quad-core ARM Cortex A9 processor
- SGX543MP4+ GPU
- 5-inch OLED touchscreen (960 x 544 resolution, 220ppi)
- Rear touchpad
- Dual analogue control sticks
- Digital D-pad and six control buttons
- Six-axis motion sensing technology
- Stereo speakers & built-in microphone
- Front and rear camera
- Wi-Fi, 3G on 3G model
- 182.0 x 18.6 x 83.5mm
It is safe to say that PS Vita would surely grab some attention of its own this year and I will surely anticipate what it will have to offer.
comments
You need javascript enabled to comment